I recently decided to purchase a remote matching unit, I had been looking for one for a while. The only options I have previously seen  included the name MFJ, and I was therefore keen to see who else was in the market.
I found a unit from LDG the RT-600, in theory capable of 600w (in practice I would be happy with 200w). The unit has a in-built bias-tee and remote tune head. This allows you to put 12v up the coax, keeping the installation neat and tidy. The unit is in a plastic box, one would assume IP65 but it doesn't specifically say. The unit is water proof, but it does suggest you tape the PL259 plugs after installation.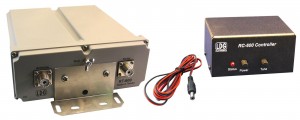 The tuner can cope with 4 to 800 Ohms and is 9″x 8.5″ x 3″ (what ever inches are) or for the rest of the world 225 x 215 x 76 mm and the manual says it  weighs 3Lb (well it is American). I didn't open it up for a look, mainly because its a sealed unit and I didnt want to disturb any seal.  Its currently installed with a 12m vertical (ATU at the base) and it seems to do a very nice job on 14,18 and 21 MHz. Its always hard to compare the performance of any antenna system, but when compared to my doublet the receive often seems stronger in the evening.
The proof is also in the using, and so far in data modes on 10w I have worked VK2AJF, 8P6DR, JH1NLE, VK4ACN, JH1KYA, JH7VHZ, JJ2PIK to name a few.
Is it the best antenna in the world, no probably not …but if you want to feed your miss matched  antenna with coax then you need the ATU at the base.
73 Dave M0TAZ