Whilst looking for digital decoders I read a review on the software package Sorcerer. The software can be used with any HF receiver and allow you to decode a multitude of digital modes. You will find the standard FAX, CW, PSK and Olivia decoders, but also the Nato standard Stanag.
Whilst testing the software I centred the receiver on 127.5 Khz and decoded the European EFR data signal. The European EFR system is described on their website and uses 3 x 100 KW transmitters at Mainflingen 129.1 Khz, Burg 139 Khz and Lakihegy 135.6 Khz. Your dial frequency may vary a little depending on the location of the signals in your passband.
The EFR signal sounds like this.
You can download the free software. If you wanted to say thanks for hosting then a small donation would be most helpful online.
To decode EFR, run the program and select "Add Decoder" select EFR.
A setup guide is provided by the UXDF group.
Once received the decoded signal and  Sorcerer software should look like this.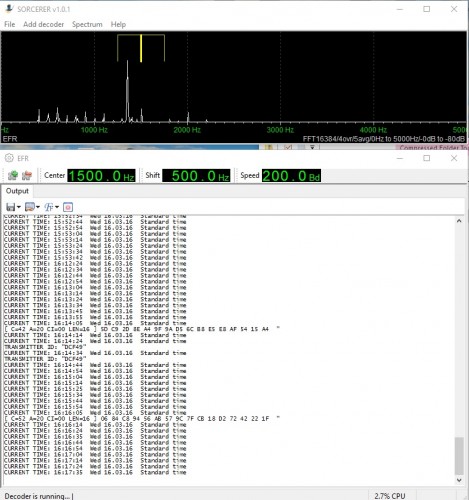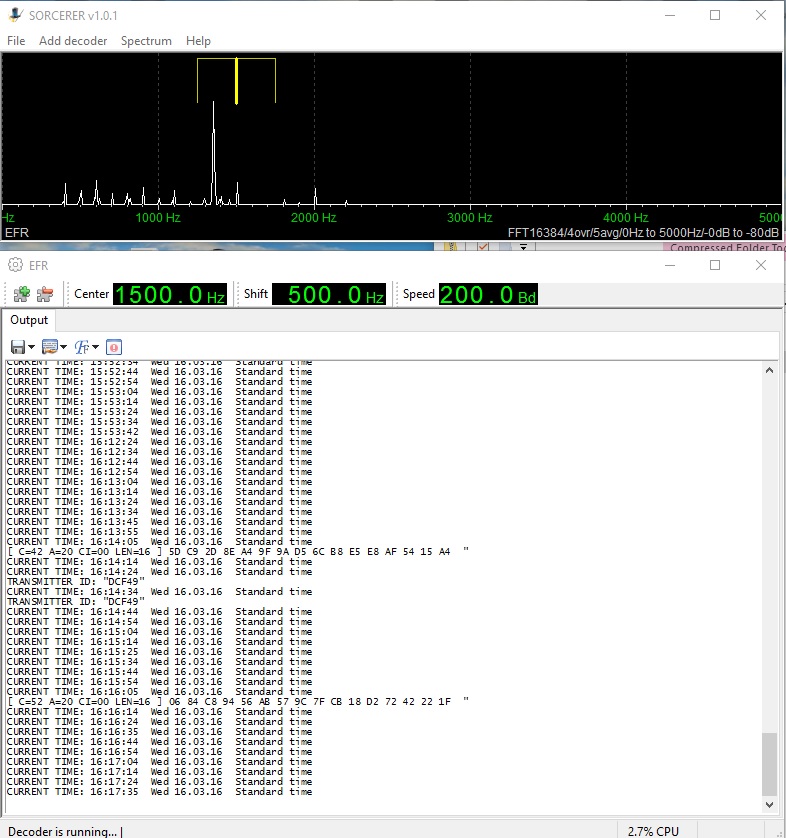 The development of Demand Side Management (DSM) and the history of Radio Ripple control and load management is also explained here.
The decoded text shows the time, date and hex address, and the message is transmitted every 10 seconds. The system is described in some detail in this PDF file.
The system can be used to remote control street lights and power load management.
The decoding software Sorcerer would seem to have been developed by Avonlea Services, although the web provides no trace of this company today.
I cant find any trace of the described website in the help file and therefore cant credit anyone with the software. I have hosted the software for free download on my site, although if you are the author please get in touch.
The software is capable of decoding many modes including
DPRK 600 bd FSK* EFR Telemeter
Facsimile (FAX) 60-90-120-240 LPM
Facsimile (FAX) B&W – Gray Scale
France-Inter Time Signal
Globe Wireless Dataplex Marker
Globe Wireless FSK & PSK
G-Tor ARQ G-Tor FEC
Greek 145bd 1265 Hz FSK*
Grintek DT-309
Harris RF-3560 PSTN TIU
Hart PRIME
Hellschreiber – Basic Hellschreiber – FELD
Hellschreiber – FM Hellschreiber- MT
Hellschreiber- Duplo Hellschreiber – PSK
HF Datalink (HFDL) ARINC 635
IRA-ARQ (ASCII-ARQ)
Israeli Tadiran Burst Message System*
Italian FSK Burst 600 bps*
Italian FSK 300/600 bd*
Italian FSK 1200 bd*
IRA-ARQ (includes Zip archive recovery)
MD-513B 16PSK MT63
MD-674 Asynchronous FSK
MD-1061 16PSK MD-1239 16PSK
MD-1268 16PSK MFSK8 & 16
Mil-Std 188-110A App A 16DPSK
Mil-Std 188-110A serial
Mil-Std 188-110A serial HRS variant
Mil-Std 55529A NB Asynchronous FSK
Mil-Std 55529A WB Asynchronous FSK
MSF Rugby Time Signal
Nokia M85200 M90*
OLIVIA (all submodes)
Dave M0TAZ