The RF Explorer range of handheld spectrum analysers can provide you with the ideal companion for hunting down rough RF. This could be a source of interference or looking for a mystery frequency.
The spectrum analyser comes in a number of different formats, the 6G combo gives you coverage up to 6.1 GHz. The unit is able to cover 15 to 2.7 GHz on one antenna port, and 4.8 to 6.1 GHz on the other.
The unit comes with 3 different types of antenna, they all use SMA and attach directly to the RF unit.
It may also be worth getting some RF connectors, so you can connect to other antennas if needed. These handy adaptors are an ideal companion.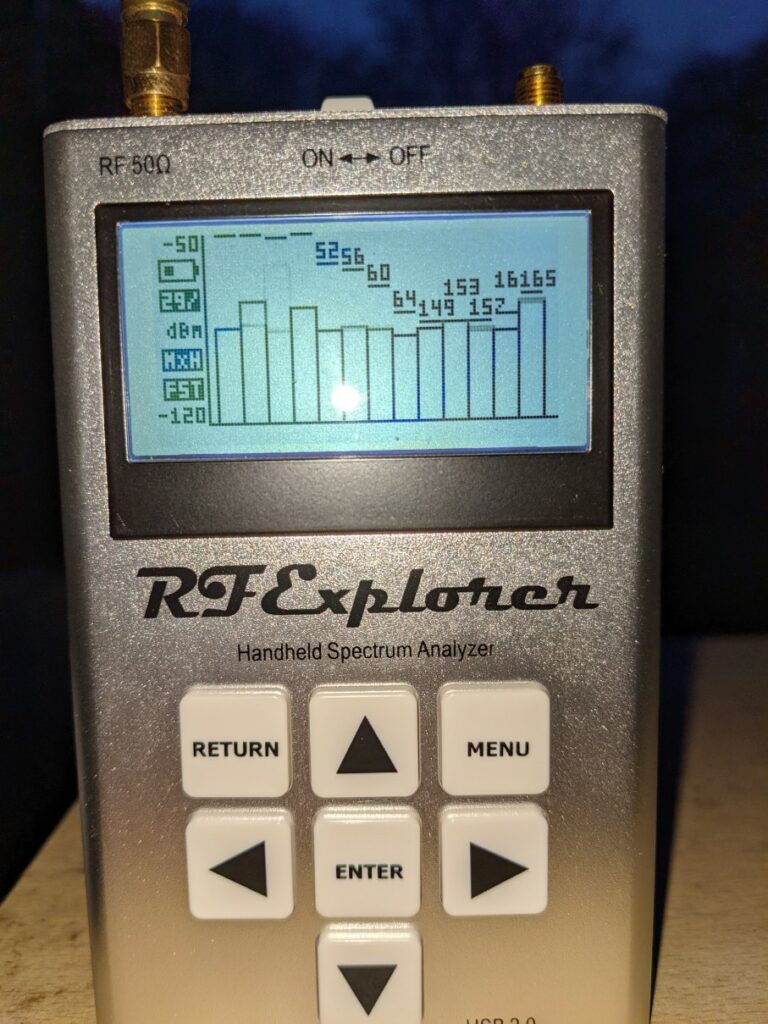 If you connect the unit to an external high gain antenna you may need to add some attenuation. The unit is very useful for finding local sources of interference, as it covers all of the main amateur bands, allowing you to 100 MHz if needed, or increase the resolution with much more focused searches.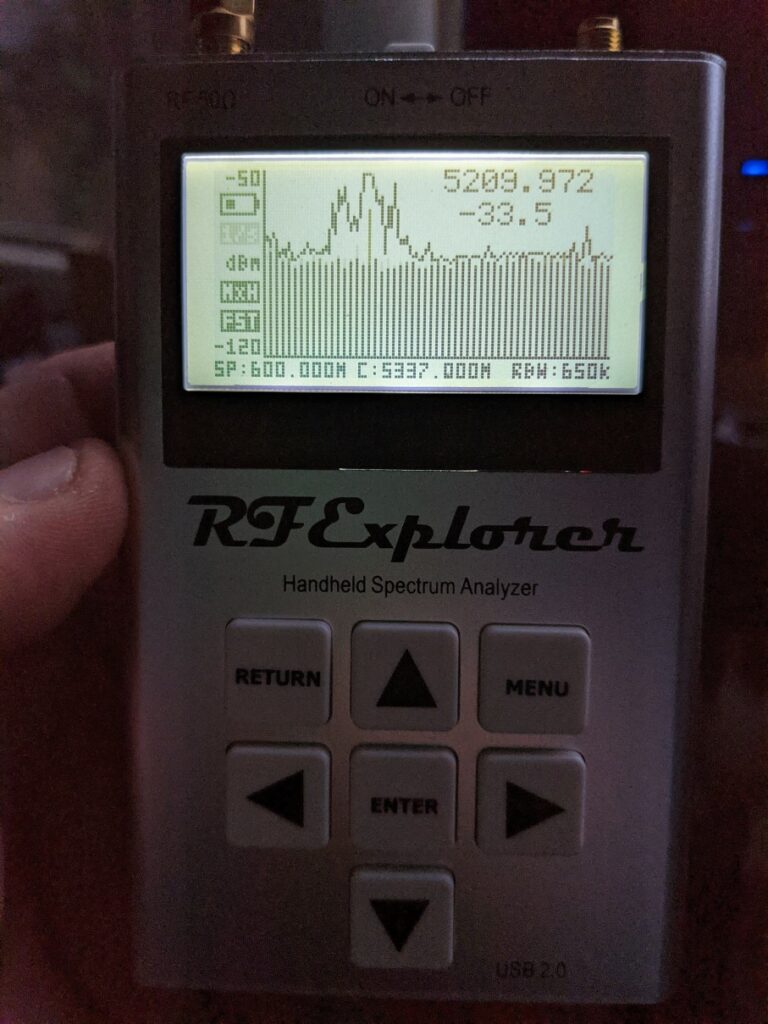 Identifying the multitude of signals on 433.9 MHz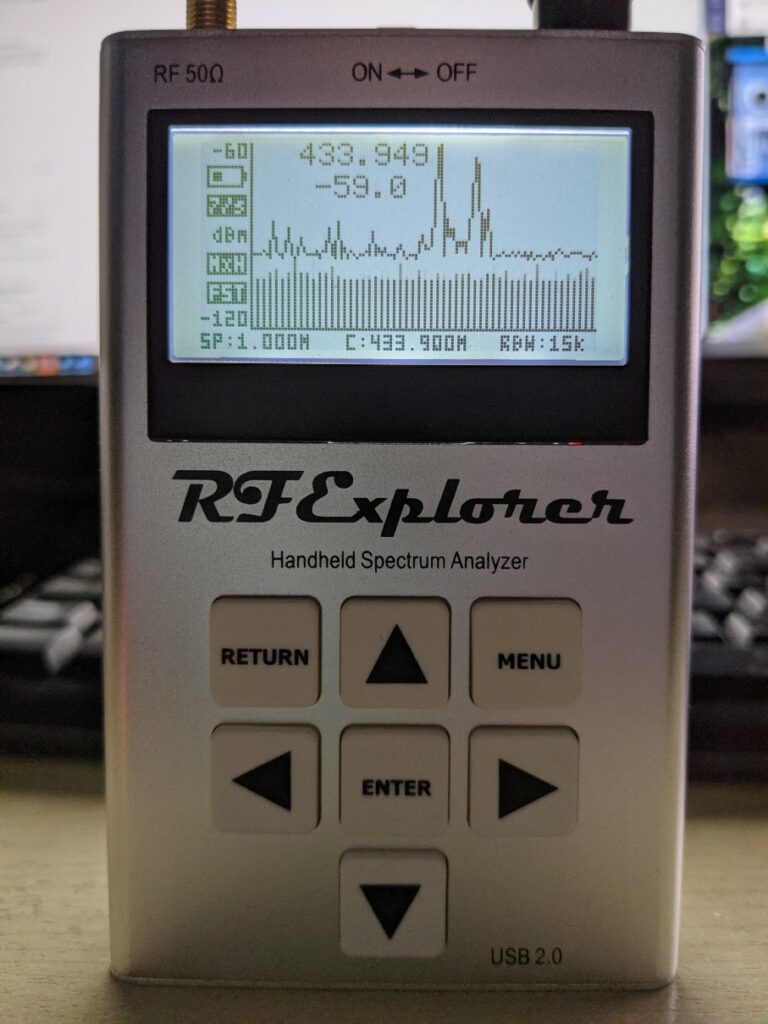 Screen size could be an issue, it's 5 x 3 cm and monochrome, but the contrast is good as you will see in the images enclosed of my unit.
You also have some online software available to download to your PC, this will allow you enhanced features and spectrum view. Here you can see a spectrum plot taken of the 433.9 MHz band over 90 minutes.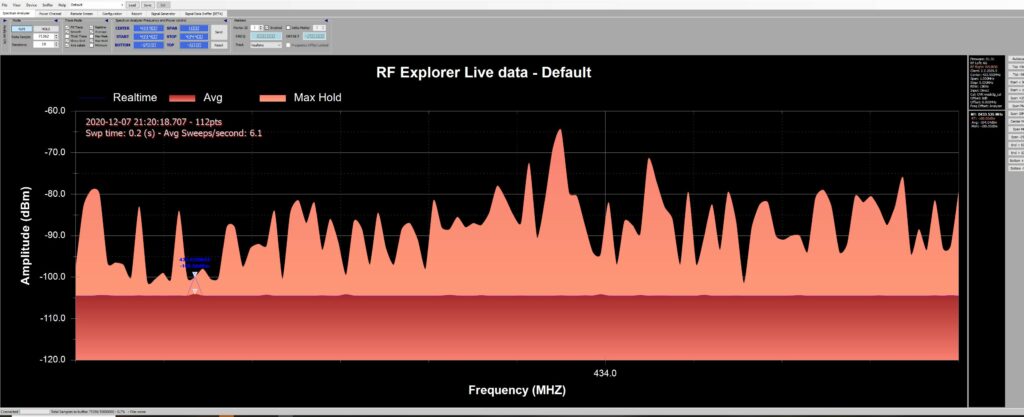 Online video review from The Gaz Lab
Online manuals and Software is available from the RF Explorer website.
Here is the technical specification
| | |
| --- | --- |
| Dimensions | 113mm x0mm x0mm |
| Weight | G.W 387g |
| Battery | Lithium Cells / Batteries contained in equipment UN3481 – PI967 |
| Frequency band | 15-2700 MHz and 4850-6100MHz |
| Frequency span | |
| Left SMA port (6G) | 2-600Mhz |
| Right SMA port (WSUB3G) | 112KHz – 600MHz |
| 2 standard SMA 50 ohms Spectrum Analyzer connectors | |
| Left SMA port (6G) | 4850-6100MHz |
| Right SMA port (WSUB3G) | 15-2700 MHz |
| Amplitude resolution | 0.5dBm |
| Dynamic range | |
| Left SMA port (6G) | -105dBm to -15dBm |
| Right SMA port (WSUB3G) | -110dBm to -10dBm |
| Absolute Max input power | |
| Left SMA port (6G) | +25dBm |
| Right SMA port (WSUB3G) | +30dBm |
| Average noise level (typical) | -105dBm |
| Frequency stability and accuracy (typical) | |
| Left SMA port (6G) | +-0.5ppm |
| Right SMA port (WSUB3G) | +-10ppm |
| Amplitude stability and accuracy (typical) | |
| Left SMA port (6G) | +-3dBm |
| Right SMA port (WSUB3G) | +-6dBm |
| Frequency resolution | 1Khz |
| Resolution bandwidth (RBW) | |
| Left SMA port (6G) | automatic 58Khz to 812Khz |
| Right SMA port (WSUB3G) | automatic 3Khz to 600Khz |
| Graphics LCD | 128×64 pixels, great visibility outdoors |
| PC Windows client | supports Windows XP/Vista/Win7 both 32 and 64bits |
| Backlight | for great indoor visibility |