NOTE:- It has been recently discussed on the UDXF Yahoo group that Sorcerer is using an old freq/site list – you may get correct decodes, but not correct site IDs. One option is to consider some of the other methods of decoding ARINC on this page.
This article was updated on 28/11/17 to reflect some changes highlighted by Mike KA3JJZ
---
ARINC 635 is an HF data protocol defined in a document of the same name. The data is sometimes described as HF ACARS, and uses this protocol to exchange packets of data with aircrafts and ground stations over HF. The frequencies and ground stations are designed to provide worldwide HF coverage, and you can listen and decode them with any HF or SDR receiver.
I used the Sorcerer software and previously described using the program to decode other digital modes. The program provides you with decoding opportunities not available in other programs and provides an ideal opportunity to experiment with decoding HF data. I've also written about VHF ADS decoding, but this article deals with the HF version of ACARS.
So what is ACARS 
ACARS is the Automatic Communication Addressing and Reporting System. You can download a free VHF ACARS decode online. I haven't checked, validated or used this VHF software, so at this point, cant offer any further advice.
Getting started
Download Sorcerer, and select PSK then ARINC 635 as your decoder. Tune your HF receiver to one of a number of frequencies, this will depend on your location and the time of day / HF propagation conditions. In the UK I used frequencies listed for Shannon ILR and found 6.532 MHz USB as a starting point, you may also wish to try 2998, 3455, 5547, 8843, 8942, 10081, 11384.

Other frequencies are available in this article.
Once on the correct frequency, the program should start decoding.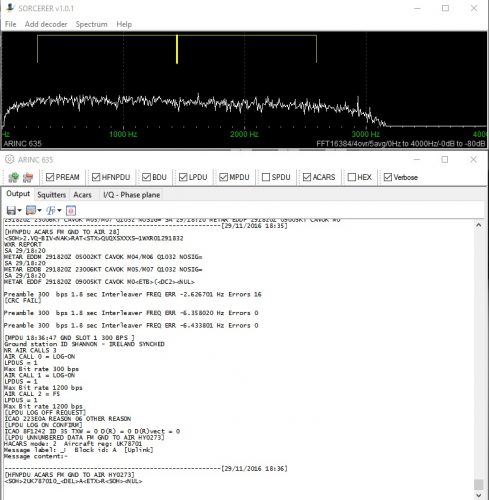 The message contents vary, but here are some examples.
———————————————————————————————————————–
[MPDU 18:40:06 GND SLOT 1,2 600 BPS ]
Ground station ID SHANNON – IRELAND SYNCHED
NR AIR CALLS 1
AIR CALL 0 = F5
LPDUS = 1
Max Bit rate 1200 bps
[LPDU UNNUMBERED DATA FM GND TO AIR HY0273]
HACARS mode: 2 Aircraft reg: UK78701
Message label: A9 Block id: D [Uplink]
Message content:-
/ESBATYA.TI2/LTBA ARR ATIS T 1820Z EXP ILS DME APPCH 05 SFC/ WET FOR RWY 05 TRL 110 BE CAUTIOUS ABOUT GP AND LOC DISTORTIONS OR INTERRUPTIONS FOR RWY 05 OR 23 AFTER VACATING RWY CONTACT 121.8 VIS 9999
---
The message above would indicate its directed towards HY0273 a flight is shown as leaving TAS (Tashkent to Istanbul)
Others messages contain location information
——————————————————————————————————————————
[LPDU UNNUMBERED DATA FM AIR SAS150 TO GND]
[HFNPDU PERFORMANCE]
18:51:20 UTC Flight ID = SAS150 LAT 51 40 43 N LON 0 13 32 E
——————————————————————————————————————————
In this message, I think it is communicating what frequencies are being used/monitored by each ground station. You can match the numbers with the allocated frequencies shown in this table.
Preamble 300 bps 1.8 sec Interleaver FREQ ERR -6.403492 Hz Errors 0
17:18:16 UTC SHANNON – IRELAND DB = 49 SV = 0 GS UP LIGHT OFFSET 10
SHANNON – IRELAND UTC LOCKED Active freqs 3 5
REYKJAVIK – ICELAND UTC LOCKED Active freqs 3 4 6
RIVERHEAD – NEW YORK UTC LOCKED Active freqs 2 4
If you have any further information, additions or corrections please get in touch.