Members of the Secret Nuclear Bunker Contest Group (SNBCG) assembled at Kelvendon Hatch to try 144 MHz (Earth Moon Earth) EME and MS (Meteor Scatter) over the weekend of the ARRL EME event As a group we have tried with some success MS QSO and this helped lay the foundation for this weekend's EME event.
EME is particularly challenging due to the great distances involved and extreme path loss of the signal after its travelled close on 500,000 miles! The equipment and format of the QSO is similar to MS, we used the WSJT-X 1.7 (currently in Alpha) and WSJT provided free from Joe Taylor K1JT website.
The weekend of the ARRL EME event was selected as it provided the best chance of working some of the EME "big guns". Our equipment was quite modest by comparison, but included a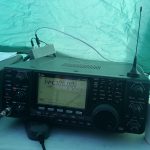 9 Element LFA antenna designed by Justin G0KSC,
DG8 masthead preamp as designed by Ian GM3SEK with the kit available to order from hupRF.
Linear amp UK Gemini 2 VHF amplifier delivering 300w.
Low loss LBC600 / LMR600 coax.
We found we could often decode signals, and even the thrill of decoding signals from the K2VEE in EM79 via the moon was incredible…then it happened.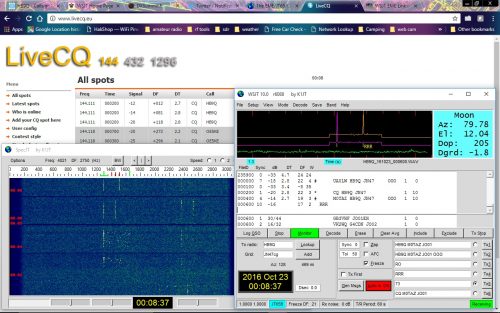 We answered a CQ call by HB9Q and to our surprise they replied. This was our first and it turned out only EME QSO that weekend.
We continued to have quite a few MS QSO working Italy, Slovenia, Denmark and Norway and also a number of SSB contacts with 30 or so UK stations over the course of the weekend.
It is always nice to try a new mode and to succeed, you must never underestimate how difficult it is to achieve a QSO over that incredible distance. We achieved our goal of making an EME QSO, and regular decoding of signals via the moon. If this has inspired you to have a go I would encourage you to check out K4MSG guide to small station EME. Also have a look at W5UN monster EME array that has bagged him over 11,000 EME QSO !
QST also published an interesting article "A Basic Approach to Moonbounce" that you may find interesting.
Plans are already being made for the next EME event in November…