Web SDR receivers allow you to remotely monitor the radio spectrum, and phone (voice) is quite easy you just click and listen. You can also use SDR receivers to decode date modes, be that CW, PSK, RTTY, HF-DL or Olivia.
The principle is the same, you need to route the audio out of the SDR, and into your data modes decoder. This requires a virtual audio cable, you will find quite a few both paid and free version on the web. It is "virtual" because you need to connect the audio from one port on your computer to another with software.
Here you will find some free virtual audio cables (untested) or you can try the most popular (but not free) version virtual audio cable program.
So you have now downloaded your VAC, next find an online SDR like this one, or others are available at sdr.hu.
Start up the web SDR and select the frequency and mode that you want to decode. Here you can see we have centered on an Olivia signal, 16/500 on 5 MHz (5366.5)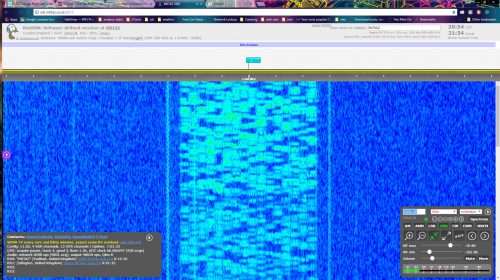 Now you need to configure the audio IN and OUT. In my case, it looks like this. Note the WAVE IN set to my sound card, and WAVE OUT set to Virtual Audio Cable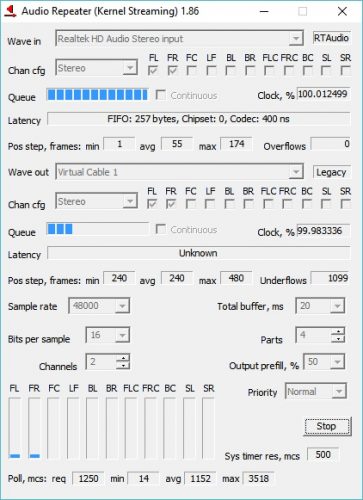 You now need to decide what program do you want to use to decode the data. Fldigi is a good free choice, I used DM780 from Ham Radio Delux but you may also want to check out Sorcerer.
HRD also have an old free version, it is worth considering and can be downloaded here.
You will need to tell the data decode program to use the virtual audio cable as the "input" sometimes called "microphone in"
Here is my sound card setting in DM780. Note the INPUT device is shown as "Line 1 Virtual audio cable"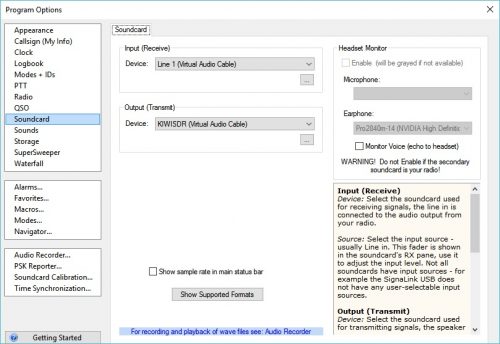 So we now have VAC running, and our software looking for audio on VAC. Now we need to select the mode to be decoded, here is Olivia 16/500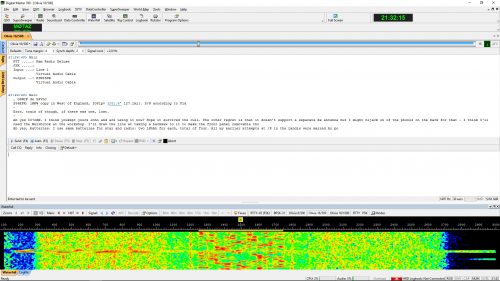 The signal should now decode, the text should be appearing in the box, and you can see the data signal in the window.
Remember you can decode virtually any mode with the correct software.