Today I was able to operate the special event call sign GB0SNB from the Kelvedon Hatch Secret Nuclear Bunker. Hellschreiber was my mode of choice, its fun and easy to identify on the air  and also quite rare. Operating was completed from the original home office radio room deep inside the bunker.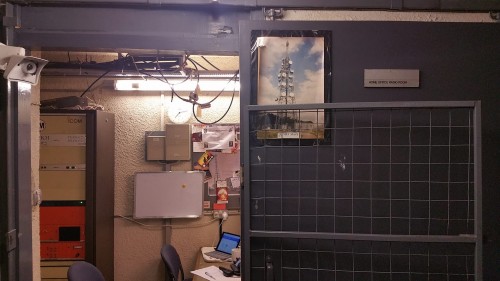 Here you can see the door to the "Home Office Radio Room" and a picture of the mast when it was full of microwave links connecting the site to a number of other locations around the country. The radio room is located 3 levels below ground.
The radio room is located directly below the radio mast, and a tunnel connects you to the surface. Feeder cables run towards the surface and connect to the doublet antenna. Here you can see the radio room and both modern equipment (used for GB0SNB activations) and period equipment.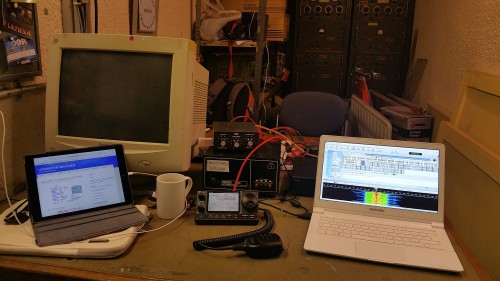 The laptop is running Ham Radio Deluxe and using the digital mode HELL. The Icom 7100 was running 50w RF into the clubs doublet antenna located 26m on the mast. The doublet antenna is 40m per leg. A cup of tea is required to keep the operator warm, its not often above 12c in the shack.
I managed to work several station from Belgium, Netherlands, Germany, England and Sweden on 7 MHz and on 5.3665 MHz I used Olivia MFSK. The bunker is also a museum so often busy with members of the public most days of the week.
The mast is also home for GB7KH the Kelvedon Hatch Dstar repeater.