Operating portable HF and VHF can be great fun. Over the last few years our club has managed to acquire enough equipment to operate HF, VHF or UHF.
HF Setup Masts
Racal type 714 mast. The PDF manual for these is getting very rare to find online. I have a copy you can download racal mast type 714. This is very similar to the PU12 mast, a copy of the original flyer for these masts can be found PU-Masts. The mast extends from around 1.8m to 12m and will support a small VHF beam. The mast is raised by hand (push up) and can be setup and raised by a single person, the mast is ideal for VHF and UHF field operating.
Racal type 714 mast supporting a 9e Tonna 144 MHz beam.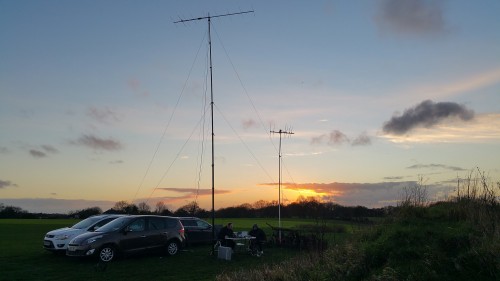 Yellow Clark 10m pneumatic mast (NT Series)
The mast was purchased second hand, I was never sure exactly what model. Its looks very similar to the Clark NT series with keyed sections to prevent rotation. The mast has recently had some legs fabricated to allow it to be self supporting. The mast will support a large HF or VHF beam, The mast is often used with my homebrew 4E beam for 21 MHz.
Here you can see the yellow clark with legs to the right, and the Racal 714 to the left.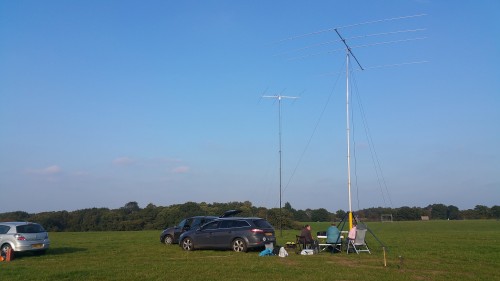 Antenna choices
9E 144 MHz tonna – This antenna is very easy to assemble and light for portable use. The tonna is still available new in the UK. The manual can be downloaded online. The antenna specification can be found viewed online.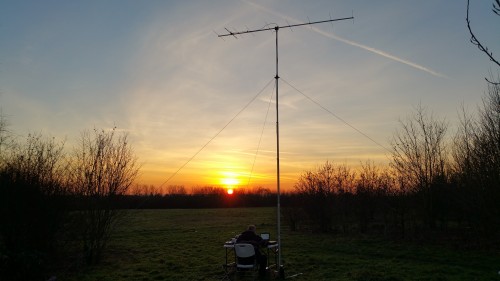 Jaybeam 48E X Yagi – The antenna has been out of production for some years now. Its a robust built x yagi for 433 MHz.