Having just returned from Scotland, I decided it was about time to dust off the 20m Quad antenna and do some QRO with John M0UKD.
The antenna has undergone a few modifications since the #1 version last year. The mounting plates for the roach poles are now heavy duty aluminium.
The plan last night was to setup the Quad and try out a new mast (12m [40ft] Racal push up mast) with the antenna. The antenna assembly takes a while, as the antenna was designed to be portable, with everything fitting into the car in preparation for HF portable.
Power would be provided by the Honda generator, and so this would enable me to take the Linear Amp and run QRO with 400w.
The plan was to use a leisure battery to run the radio, allowing the generator to breath and deliver the linear as required.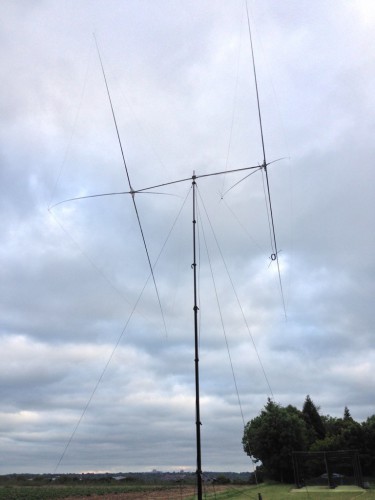 The generator would be capable of doing both, but I have the battery here and it seems logical to give the genny some headroom.