Having just returned from Scotland, I decided it was about time to dust off the 20m Quad antenna and do some QRO with John M0UKD.
The antenna has undergone a few modifications since the #1 version last year. The mounting plates for the roach poles are now heavy duty aluminium.
The plan last night was to setup the Quad and try out a new mast (12m [40ft] Racal push up mast) with the antenna. The antenna assembly takes a while, as the antenna was designed to be portable, with everything fitting into the car in preparation for HF portable.
Power would be provided by the Honda generator, and so this would enable me to take the Linear Amp and run QRO with 400w.
The plan was to use a leisure battery to run the radio, allowing the generator to breath and deliver the linear as required.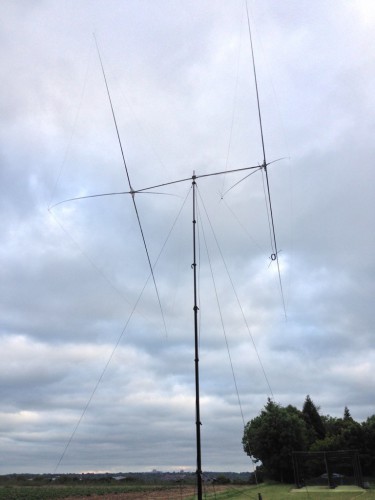 The generator would be capable of doing both, but I have the battery here and it seems logical to give the genny some headroom.
The mast was a new addition, and I was pleased to see I could set this up on my own, complete the guys and extend it to 12m without any assistance. Once the quad was in place assistance was required as its almost impossible to assemble to quad and mount on the stub without assistance. The antenna is quite light, but pushing the mast up was a little difficult but with care it was soon at 10m. It was a little windy last night, so kept a couple of meters in hand..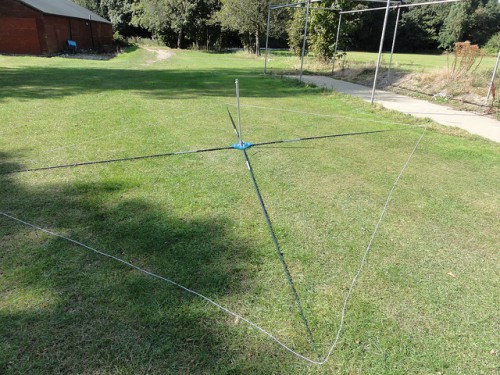 The antenna will free rotate on the mast, if you only guy at the top and the bottom you can simply hand rotate, we decided to use a rope on the back of the antenna so we could fix it at the USA and call CQ DX.
We stated operating at 8.45 and the plan was to finish late…. (we finished at 2:45)
The first call in the log was WA1LSH from MA and very soon we had a mini USA pile up! Over the course of the evening we worked 90 stations, 65 of them USA.
A quick look at the stats suggest 19 states DE, FL, GA, IL, MA, MD, ME, MO, MS, NC, NJ, NY, OH, PA, RI, SC, TN, VA and WV.
We also worked a fair selection of other countries including Ecuador, Canada, Brazil, Venezuela and Argentina. Only one VK but we was beaming at the USA.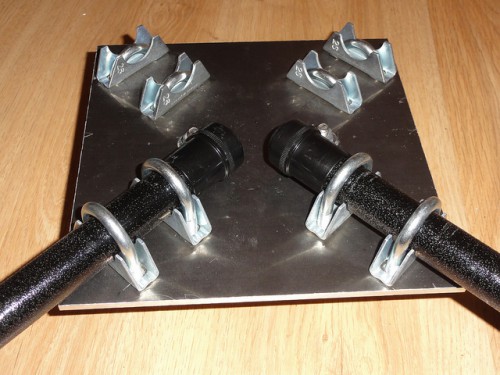 I have included a couple of pictures from the evening, and now the "summer" is here its nice to do some weekend outdoor operating into the wee small hours. This is after all the solar maximum so best to make use of it while we can….
73 Dave, M0TAZ.