After reading a review on the @essexham website I decided to take a look at the world of DMR and the MD-380 seemed like a good place to start. The radio is available on eBay for around £100 including programming lead, software and delivery! If you want to purchase from the UK, with support then I would suggest you look towards Taylor Made RF for around £149.
So the basics, the radio is 1w or 5w, 280g weight and is supplied with a 2,000mA battery. You can program the radio with up to 1,000 channels and will operate between 400 and 480 MHz. VHF versions are available, but most DMR repeaters are UHF at this time.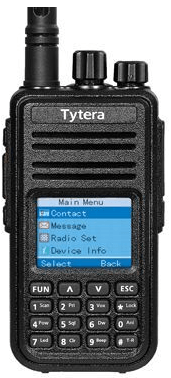 If you decide to go down the self-service route you will need to register your callsign and obtain a "unique" number. This number will need to be programmed in once you receive your radio, so the addition of a USB programming cable is very helpful.
Once you receive your DMR radio its likely to be unprogrammed and you will need to source a codeplug. These are available from various websites, and due to the number of repeaters coming online they can quickly go out of date.
UPDATE Jan 2016
The structure of the DMR network has changed substantially since I first wrote this article, and many of the codeplugs have become outdated. New codeplugs that reflect the new structure can be found at Charlie M0PZT ham goodies website and GB7CL website.
GB7DD website also contains a great deal of information on DMR including codeplugs.
You may also want to download the programming software and then review the latest firmware versions available for your radio.
You will also need to have a basic understanding of "talk groups" and you will find some information on the protocol to follow.
New to Feb 2016 was the reworking of UK talkgroups. The structure has changed, and all radios will require reprogramming. The new structure is explained in this PDF available from GB7DD website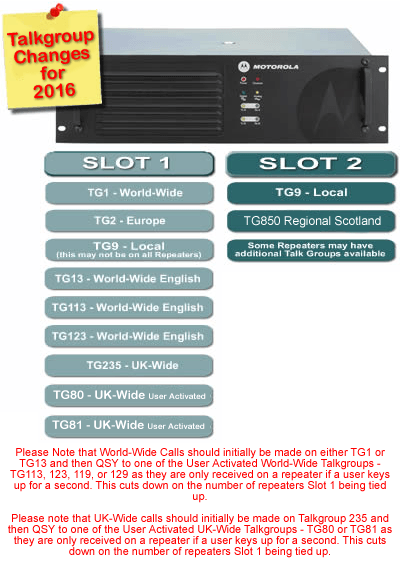 Its not possible to have all of these active at the same time, and the diagram here explains why. DMR uses two timeslots, so thats one frequency time divided into 2 and you can use 1/2 of that repeaters capacity by using one of the talkgroups.
Activity and repeaters
You can review who is on DMR and the activity levels in near real time and see the signal level and BER that you accessed the repeater. A complete list of DMR repeaters and associated coverage maps can be seen on the UK repeaters website.
First impressions
Excellent value for money, solid construction and easy to read display. Audio reports are good, speaker volume and resolved audio quality are very good. The programing software and USB cable are essential, I had no issues with running these under Windows 10.
Hope to work you on DMR soon 73 Dave M0TAZ