Today I operated alfresco with George M1GEO from our contest site at Kelvedon Hatch SNB. Operating as M0TAZ/P from Kelvedon Hatch SNB in JO01 we managed to operate 3 bands, 144, 70 and 50 MHz.
The contest was a RSGB Christmas Cumulative Contest and we entered as the Secret Nuclear Bunker contest group.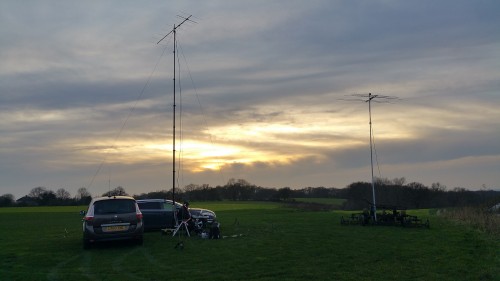 Portable Equipment
144 MHz 9e portable tonna Gain: 13.1dBi free space
50 MHz a G0KSC designed 50/70 MHz beam Gain: 8.6dBi free space
70 Mhz a G0KSC designed 50/70 MHz beam Gain: 8.5dBi free space
The 50/70 MHz interlaced beam is interesting as it uses a single feed line, and respectable gain for a 2m boom length.
Racal 12m PU12 mast. Push up 12m mast
Mast head preamp 11 to 18 dB gain.
Power was provided by 110 Ah leisure battery
Radio Icom 7100 at 50w.
Masthead amplifier for 144 MHz provided by George M1GEO. The design was originally published in the RSGB magazine RADCOM plus  issue 1 designed by Ian White GM3SEK. The details are published on his website, detailed as the DG8 low cost, high performance preamp for 144 MHz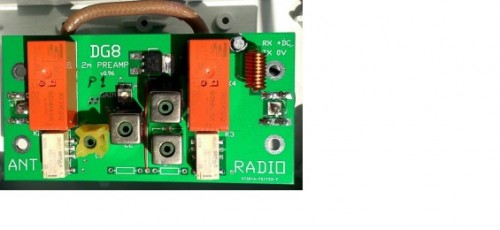 Conditions seemed good to the North, allowing us to work some good DX. On 144 MHz our best DX included GM4JR in IO85 (368 km) , MI0SMK in IO64 (524 km) and GD8EXI in IO74 (429 km)
Maps showing the QSO enclosed.
144 MHz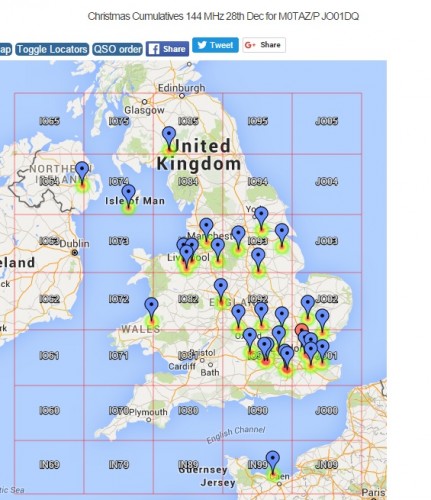 70 MHz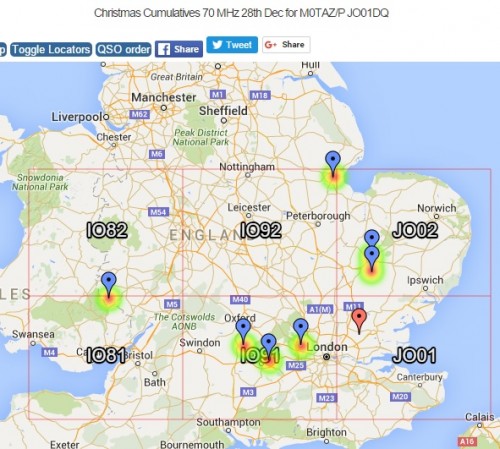 50 MHz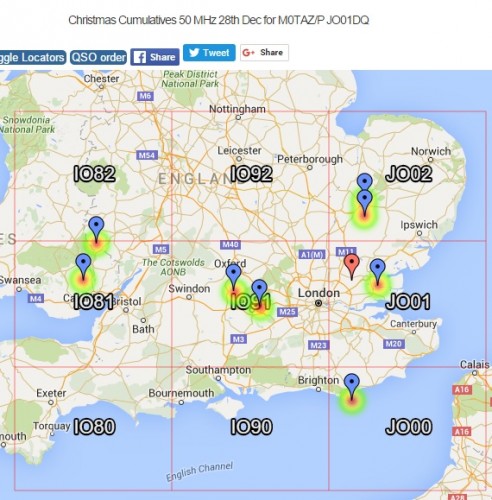 Thanks to everyone we worked, from a rather chilly Kelvedon Hatch.