At last, the warmer weather has arrived, today gave me the first opportunity to operate outdoors without a coat.
It was a pleasant sunny afternoon so I decided to operate outdoors and make the most of the nice weather. Using the Icom 7100 and 65Ah leisure battery and a white stick for 145 MHz and slim jim for 70 MHz allowed me to work a number of local stations.
The 70 MHz Slim Jim is mounted on the fibreglass pole on the right.
The metal mast on the right had been given to me by Richard G4DDP and it was its first chance to try it out in the field. Its very heavy duty, and I think would have originally been designed to take a speaker at a gig, now upscaled to amateur radio.
On 145 MHz I worked M0FAQ Martin in Braintree, M0WJL Gordon in Corringham.
On 70 MHz I worked 2E0HPA/M Andy in Tadlow, G4YBI Paul Rainham, M0XTA Selim, G0ENN Southend.
Here you can see the Icom 7100 setup and operating on 70 MHz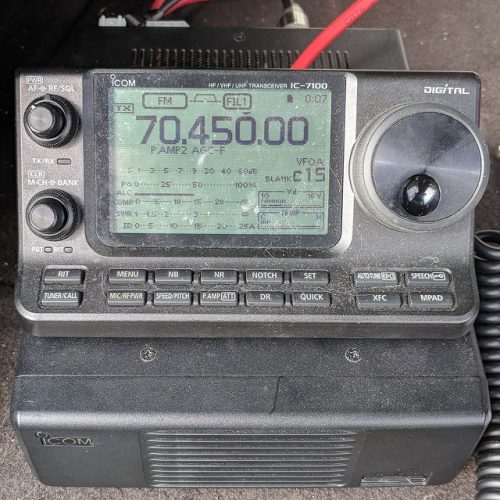 The Icom 7100 all packed up in its travel box.