You can read Part 1 and Part 2 of the project
Part 3
Members of the Havering ARC took part in the LEFARS radio event over the bank holiday weekend 23/24/25 May provided the ideal opportunity to test the beam. George M1GEO and Chris G8OCV provided the 12m SCAM mast and so the fun began. The club operated from a farm site in Harlow, giving us enough space to test even the most ambitious projects. As described in parts #1 and #2 the antenna has a 5 meter boom, and although it isn't too heavy it still provides a challenge lifting this onto the mast.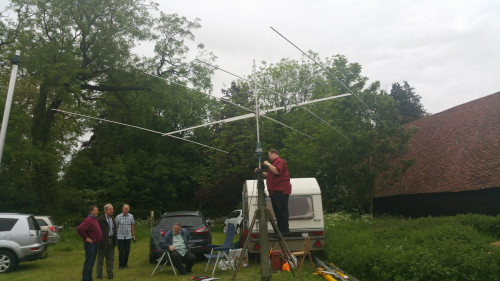 Once again a quick VSWR check using the MFJ antenna analyser suggested it was ready to go, and so the next phase was to pump up the mast. The Scam provides 12m (45ft) of elevation, and provides a suitably robust (heavy) construction that makes it a firm favourite for our HF field days.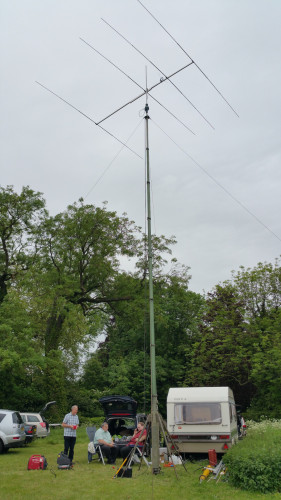 The station was a Kenwood TS990 and Explorer 1200 Amplifier. Here is a picture of George M1GEO working a pile up.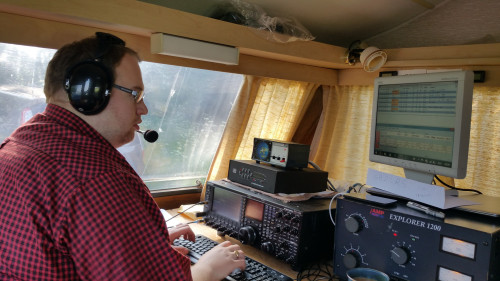 Over the course of the next 3 days we were able to test the antenna, band conditions seems reasonable on the day and improved early evening on most days. We found the directivity to be good, and pointing towards Japan in the early evening provided a pile up of JA's calling us.
Some highlights VU3DMP Chetz from India
Some really nice calls from Japan as well including JJ1LWA Hal near Tokyo using 200w and 3E beam
We also found conditions very good into the USA late evening and working West coast with signals 59+ was quite a surprise. It was also nice to see the GB2LRS station generating some interest on the HF band, with one USA station suggesting the phonetics should be GB2 Loud Radio Station !
The USA and JA pile ups were quite a surprise, listen to one here and see what you can pull out.
The the weekend finally coming to an end on Monday we had worked 600 stations in 58 countries, the highlights being A9 Bahrain, C6 Bahamas, BY China, VU India, HI Dominican Republic, EP Iran, P2 Papua New Guinea, KL Alaska, XE Mexico, and YB Indonesia. The top two countries in the log were 376 Q into USA and 71 into Japan.
I think given the quantity and quality of stations worked this weekend I can now declare the 4E mono band for 21 MHz a success. Thanks to everyone who worked us and made the weekend possible.