Option 1 Using WSJT-X
WSJT-X supports JT65, JT9, WSPR and JT4. This may provide better compatibility than WSPR v2.12 but essentially both can work. WSJT-X has the advantage of supporting multiple modes, and also you can set the radio control to "Ham Radio Deluxe" and let HRD provide the CAT control.
WSJT-X can be downloaded here, and provides native support for many newer radios.
Option 2 Using WSPR 2.12
I was looking on-line for resources on how to configure the Icom 7100 for use with WSPR  v2.12. The WSPR software can be downloaded free from K1JT website and runs under most version of Windows. I currently use Windows 8.1.
The problem is the Icom 7100 is not currently supported for CAT in this older software, and I was trying to get online with WSPR on 70 MHz in time for the sporadic E season.
I read online that various people had some success, but I was unable to find all of the setting on one page. After trying various options I can confirm its now working, so to assist others here is the configuration that worked for me, and I hope for you.
WSPR 2.12 Set up, firstly looking in the station parameters, set the following. You will need to select your correct COM port, and ensure CAT is ticked. Set the radio to Icom 7000 and data rate to 19200, data bits to 8, stop bits to 1. I setup the handshake to be "hardware"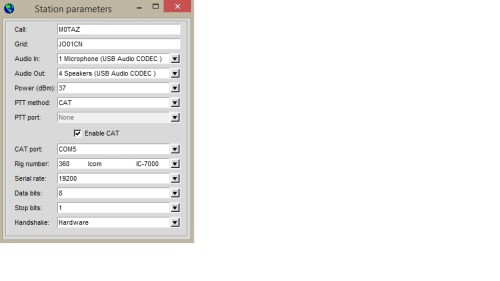 I also needed to make some changed to the radio, under SET, Connection, CIV I changed the radio address to CI-V to 70h, and checked the CI-V baud rate was 19200.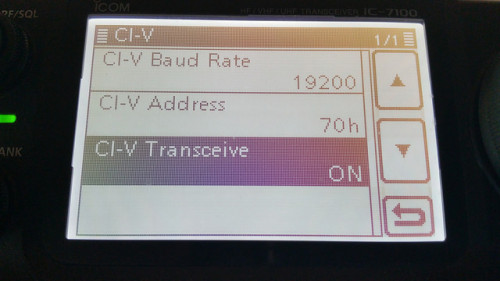 Using these setting I was able to connect to the radio, and PTT via CAT. This enabled me to run WSPR on 70 MHz. Good luck, hopefully this is helpful if you are trying to connect this fine radio to WSPR and hope to see you on the bands soon. 73 Dave M0TAZ.