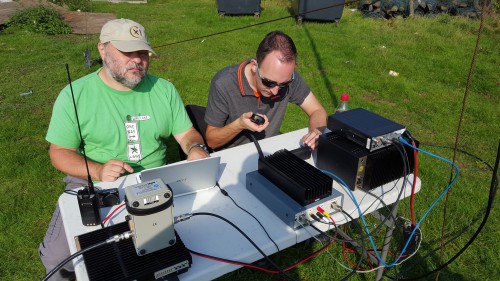 We had some great September weather today for the RSGB 2nd 70MHz contest. We setup a station at the Kelvedon Hatch 'Secret Nuclear Bunker' as seen above, using John M0UKD 70MHz amplifier and his 4 element DK7ZB 12.5Ω Yagi. The mast was my 12m Racal PU12 a push up 12m mast, and the location was around 100m ASL. The radio was the Icom 7100, as this provides all mode 70 MHz coverage.
                                        QSO map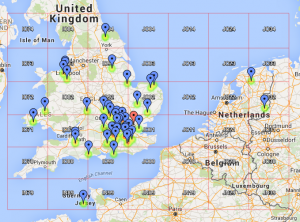 Conditions seemed quite flat, we didn't manage to work into Scotland or Ireland but our best DX (as many others) was PA4VHF at 449km. Other highlights were GJ3YHU in Jersey and M1CJN/P in the North York Moors.
A very enjoyable day of operating and testing the new amplifier. Next week, it's the Practical Wireless 70MHz contest, so lets hope for the same weather and some band openings perhaps? Maybe I'm asking too much
The Claimed Scores are available. Thanks to John M0UKD, George M1GEO, Dave M0YOL and Chris G8OCV for help & company!